+ Introduction
Changzhou DaHeng Automation Equipment Co., Ltd , with its headquarter in jiansu, was founded in 1998 which is a high-tech joint-stock enterprise specialized in researching, producing and marketing for sophisticated water analytical instruments. Our products have been applied in power plant, chemical, petrochemical, pharmaceutical, metallurgy, scientific research and other related fields.

The factory has strong technical ability and advanced process;and regularly develops technical exchange activities.It has established long-term cooperation reationship with a number of companies in usa(hach company),Switzerland( mettler toledo process analytics) .we focus on providing our customers with sustainable, technologically advanced, engineered solutions and services .Currently our products have been exported to Europe and Southeast Asia. In addition, we have been authorized as an OEM by some global famous brands.

we have established a perfect QA system per GB/T19001-1994 model and specified the requirements in the process from design and development to service.with ISO 9001:2008 quality management system.

Daheng works to meet its customers' needs through our commitment of continuous innovation and development to providing better products and services.



Products Range

:Multi channel Online Water Analysis Instruments ,these products are mainly used in power plant.

Silica Analyzer
Sodium analyzer
Phosphorus Analyzer
Conductivity Analyzer
Turbidity Meter
Ph/Orp meter
Dissolved-Oxygen
Acid and Alkal concentration analyzer
Hydrazine(oxygen scavenger) Analyzer
Water treatment system

Agent Brand:
Polymetron (France )
Hach (USA)
Mettler Toledo ( Switzerland )

NEW Product : Multi channel-distrubutor Multi channel analysis

Certificate Of Quality Management System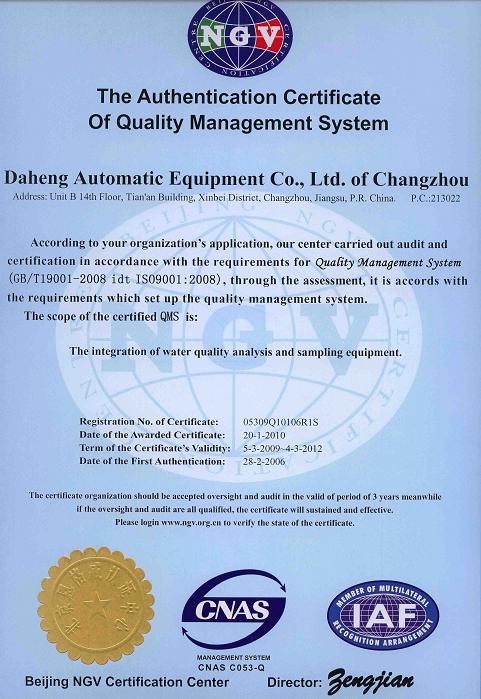 Technology leading Acting ahead



We are looking for you worldwide—a trustworthy and prominent distributor/agent---!


---
+ Guestbook